- 31st Annual Montpelier Invitational Sculpture Exhibition -
June 7 – August 19, 2012 Reception: June 8, 2012, 7-9 PM Luncheon/Lecture: June 7, 2012, noon Reservations Required
31st Annual Montpelier Invitational Sculpture Exhibition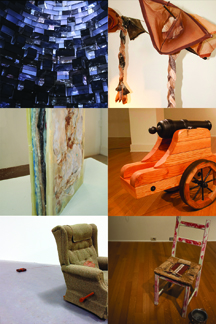 University of Maryland Master of Fine Arts Candidate Sculpture Show
The Montpelier Arts Center is pleased to provide exhibition opportunities for emerging artists. For this year 2012, the Montpelier Invitational Sculpture Exhibition will present works by nine young artists from the University of Maryland Master of Fine Arts degree program.
These artists present a wide variety of unique cultural and visual perspectives and explorations within sculptural media. Artists hail from as far away as France and as close as Baltimore. The media presented is as diverse as their locales, ranging from video installation to recycled objects to fiberglass, plaster, and even cast metal.
Sculptors participating in the exhibition are Michael Booker, Mark Earnhart, Claire Girodie, Felicia Glidden, Bahar Jalehmahmoudi, Peter Karis, Pat McGowan, Lauren Moore, Lauren Little, and Adam Nelson.
A reception will be held in their honor on June 8, 2012 from 7-9pm. On June 7, 2012, Montpelier will host a slide talk with the artists. Lunch will be served at noon, reservations required. The reception and luncheon/lecture are free and open to the public.
Montpelier Arts Center
9652 Muirkirk Road, Laurel, MD 20708
301-377-7800 or 410-792-0664;
FAX: 301 377-7801
TTY 301-490-2329
Email:montpelier.arts@pgparks.com
more
Montpelier Arts Center